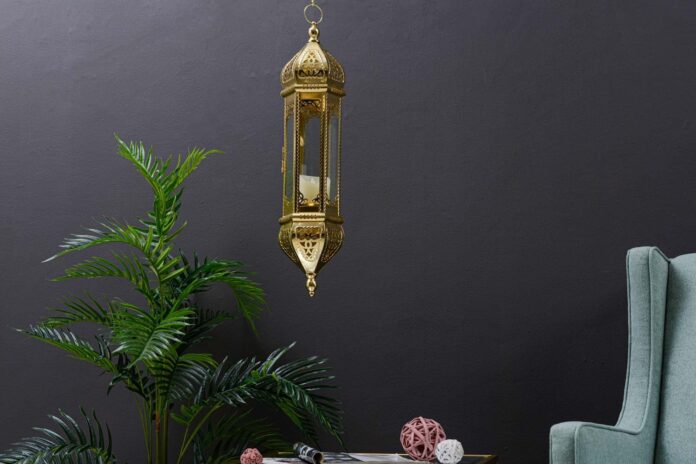 Initially, lanterns were the only portable light source with oiled wicks or candles. However, nowadays, lanterns also have battery-powered lighting sources. After the advent of electricity, lanterns have significantly depleted. However, they still serve as excellent home decorators.
Lanterns add a warm and inviting feel to your home. The gentle flicker of their golden light, peaceful silence and a cup of hot chocolate is almost a heavenly pleasure. Lanterns have various types, like vintage lanterns, pillar lanterns, gold lanterns, Moroccan lanterns, etc.
Since home décor with gold lanterns is a creative topic, you may be hunting for some excellent lantern decoration ideas. If that is so, here, they are!
The Front Welcomers
Front door steps are the best spot to place your flower ports or hang wind chimes along the railing. They look great; however, a gold lantern adds a more welcoming feel.
You can use different sizes of lanterns to decorate your front steps. For instance, try placing a larger lantern on the higher steps and medium-sized lamps on the lower ones. You can also use LEDs or candles within them to create a more homely look.
Hanging Lantern Display
You can also beautify your house's interior with lanterns. Gold lanterns against wooden boards are the most popular theme. However, there is still plenty of room for creativity.
You can hang a patterned board and embellish it with small lanterns on a smaller wall section. If there is no space limitation, you can make a lantern-themed corner and place larger lanterns at the display's base to give an antique look.
Golds Hanging From The Tree
Notch up your evenings with a tranquil ambiance of hanging lanterns. You can use thick stranded rope segments to hang the lanterns.
Try choosing branches at different heights to add a mesmerizing look. You can keep the lanterns simple or try to decorate their tops with autumn-themed flowers and light a brilliant candle inside.
The fickler of the lantern light and deep-hued sky with the setting sun is one of the most beautiful things in the universe.
The Golden Vivacity on The Porch
Front porches make an excellent spot for decorations, and you can never say no to a unique décor idea. People often adorn their front porches with wick sofas or small swing seats, but have you ever thought about adding some lanterns? There are endless ideas for that!
You can hang lanterns against the walls or the porch ceiling. Most people like pairing similar colored lanterns with their porch walls. However, you can also couple them in contrast. How about golden lanterns, soft floor cushions, and carpet against a white porch railing?
The Lushed Living Room
Lanterns provide excellent decoration for your living room as well. You can line them up on a small shelf under your TV or place them against the doors. How about a tan skin rug and some strategically placed lanterns? To enhance the overall glow, you can also use miniature golden lanterns.
The Bottom Line
Gold-colored lanterns are excellent for elevating the overall feel of the house. They work impeccably with all home styles as long as you put a creative touch to them.
You can use them to decorate your front porch and living rooms, give your kitchen a glittery look, etc. In addition, they also serve as excellent yard decors. You can remake traditional lawn seating with some wooden or metallic gold lanterns.
The above ideas are great, but they can use an imaginative touch. Gold lanterns retain their prominence despite the backgrounds, so the decoration ideas are endless. But if you want to sprinkle some creativity, you are most welcome!